Battery Clamp
What makes a professional line of products? Selection. More options to solve more problems and adapt to more situations--that's why people depend on Battery Specialist. We have more than 110 different battery clamps in our product line.
Quick Cable is the expert on battery clamps. We have more clamps in more configurations in more sizes to fit more applications. Our connectors fit battery cables from 8 gauge up to 250MCM. No matter how you intend to use them--crimp, solder, compression fit--we have the choices to make your job easier.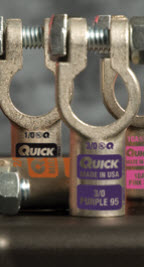 There are no products listed under this category.