Description
UPS12580 use the latest wafer-thin plate technology to provide optimum high-rate (5-min) performance. With more than 260 cycles at 100% discharge in cycle service, or up to 5 years of standby service.
Cells Per Unit 6
Voltage Per Unit 12 V
Capacity 96.7W @ 5min-rate to 1.6V per cell @25°C (77°F)
Weight (kg) Approx. 2.83 kg (6.24 lbs)
Maximum Discharge current (A) 130 A (5sec)
Internal Resistance Approx. Approx. 12.5 mΩ
Operating Temperature Range Discharge:-15℃~50℃(5°F~122°F)
Charge:-15℃~40℃(5°F~104°F)
Storage:-15℃~40℃(5°F~104°F)
Nominal Operating Temperature Range 25°C ±3°C (77°F ± 5°F)
Float charging voltage 13.5 to 13.8 VDC/unit Average at 25°C (77°F)
Recommended Maximum Charging current limit 3.76 A
Equalization and Cycle Service 14.4 to 15.0 VDC/unit Average at 25°C (77°F)
Self Discharge It should be more than 75% of the capacity that before storage after stocked for 6 months at ambient temp. 25℃
Terminal F2-Faston Tab 250
Container Material ABS(UL94-HB) & Flammability resistance of(UL94-V0) can be available upon request.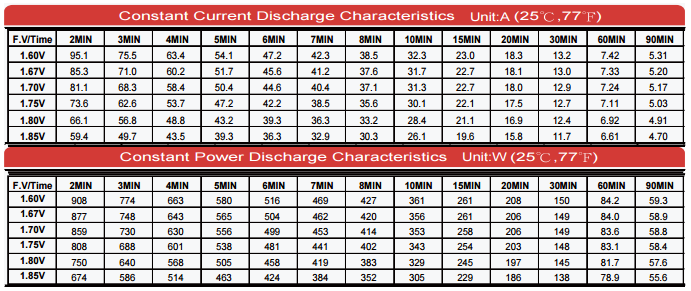 View All
Close
Warranty Information
1 year limited mfg warranty. *NOTE: The capacity of all rechargeable batteries will decline over time depending on the use and charging/discharging process. This is considered normal and therefore, a reduction in battery capacity is not covered under warranty. The battery is only warranted from defects in material or workmanship resulting in failures. Reduced runtime is not warranted and will vary depending on the power settings as well as the number of times the battery has been charged and discharged. Please be advised that rechargeable batteries are considered 'consumable products' and warranty coverage is limited to a battery not being able to receive and hold a charge.
View All
Close
Additional Information
| | |
| --- | --- |
| Voltage: | 12V |
| Capacity: | 10Ah |
| Terminal: | F2 |
View All
Close